Formula 1 fans have been promised more "uncertainty" in 2013 thanks to aggressive new tires from Pirelli, but the company is ruling out a repeat of last year's scenario of seven different winners in the first seven races.
Pirelli hosted a 2013 preview event at its Milan headquarters on Thursday to talk about its plans for the season ahead, which include new constructions and new compounds.
The Italian tire maker believes that its effort should result is more spectacular racing, and ensure there is no repeat of the type of processional races that marred a number of events in the second half of 2012.
Pirelli chairman Marco Tronchetti said that his company had worked hard to fulfill the desire of teams that had been worried about the direction the one-stop races were taking.
"We have been asked to provide more uncertainty and more performance," said Tronchetti. "Uncertainty means teams having to find the right setup and drivers having to use the tire properly.
"Like last season, in the first five or six races, the drivers were not at the top using the tires, but at the end they were too good. The teams asked us to do something different, because otherwise drivers could use one set for whole race. This uncertainty is something the teams have asked for."
Pirelli's 2013 tires will be softer than last year's, with the new hard compound being roughly equivalent to last year's medium.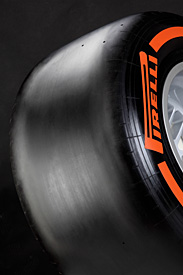 In more specific terms, the tire sidewalls are softer but the shoulders are stronger. The aim of this tweak to the design is to deliver a faster thermal degradation, but wider operating window. The tires will also deliver improved traction. There will also be a bigger performance gap between the compounds, with predictions of a half-second step.
Pirelli has also tweaked the color of the sidewalls on the hard compound to make it more visible. Rather than the silver of last year, it will now be orange.
Paul Hembery, Pirelli's motorsport director, believes the changes will be good for racing, but will not make things as unpredictable as they were at the start of 2012.
"It is wishful thinking to get seven [different winners in seven races] again," he said. "I think it will be a strange season. If you talk to the teams, some are already thinking of 2014 and putting in a huge investment to get the new cars and engines ready.
"It will be a case of using the first few races to determine the level of investment – and if teams feel they are in with a shout they will keep developing. If not, they will drop away and put their resources into 2014."